Normally, you don't make a business decision without calculating feasibility. For example, if you're purchasing a house to enter the rental market, you're going to analyze the location, cost of buying and maintenance, and property value trends.
Yet, many businesses aren't as diligent when it comes to the business of debt collection.
Regardless of the size of your business, you'll run into a delinquent customer sooner or later. Instead of focusing on overcoming debt collection obstacles as you should, you may ask your in-house recovery department to collect. After they fail, you may partner with the same collection agency that's been underperforming, until you finally write off the debt.
At Summit A*R we say you can do better. Because debts require time and effort to chase, many businesses grow complacent even after achieving low recovery rates. This is the wrong attitude.
It's time to acknowledge that in-house collection is usually ineffective and that some debt collection agencies break the rules when chasing debtors. It's also time to realize that many agencies cherry pick your more easily recoverable accounts while ignoring the challenging ones until they grow unrecoverable.
At Summit A*R, we've been in the debt collection business since 1996. With 27 years of experience under our belt, we're able to offer some advice. If you think that you can do better when it comes to recouping A/R, then don't ignore that feeling. Check out this post to improve your accounts receivable methods, then look for a debt collection agency that will consistently recover your lost revenue.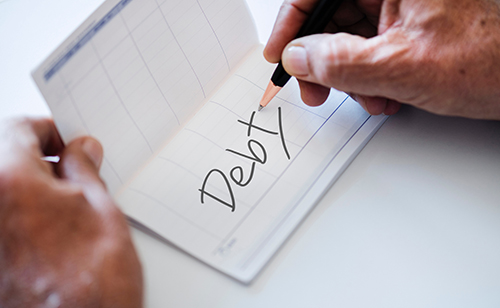 Of course, just like any business, it takes research to find the right debt collector. Here are five questions you should ask every debt collection agency:
#1 What's your success rate?
There are tens of thousands of debt collectors in the United States alone, and not many boast a recovery rate that's twice the national average like ours. Keep in mind that a good collection agency will be fast yet also effective.
#2 How much do you charge?
Each collection agency has a different fee structure, so it's best to iron out all the details before starting a partnership to avoid unpleasant surprises. Some agencies charge a fixed rate based on the value of the debt while others charge a percentage of the amount they successfully recover. Others still charge a multiplier based on the type of debt collection. For instance, some agencies may ask for more money for chasing a medical debt as opposed to commercial debt.
Then, there are agencies that charge money up front, and will only do business if you give them a certain number of accounts. As we explained earlier, this isn't in your favor, as such agencies will only focus on your easier accounts, leaving the challenging ones further tied up.
The more honest agencies have a simple and clear fee structure. For example, at Summit A*R our contracts don't contain quotas or minimums. We only get paid when you get paid.
#3 How Familiar Are You with My Industry?
This is an important question. You want a collections agency that's familiar with the nuances of your industry, or their lack of experience will make it harder for them to recover the debt. What's more, certain industries require more diplomatic attitudes in debt collection. For example, as a debt collection agency, we wouldn't apply the same tactics when collecting a medical debt as we would when collecting a luxury car debt.
Here are some of the industries we specialize in:
Medical Collections
Dental Collections
Veterinary Collections
Commercial Collections
Consumer Collections
Employee Reimbursement
Commercial Tenant Collections
Wireless Chargeback Collections
Self-Storage Collections
#4 What Are Your Methods?
It's important for your business to partner with a debt collection agency that plays by the rules. While most do, some use dirty tactics that force the Federal Trade Commission to act. These debt collectors may threaten, harass, abuse, or even try to shame your former customer into paying them. Not only is this bad for your reputation, but you may lose the client for good.
Your goal should be to partner with an ethical agency like Summit A*R. We follow an ideology called Preserve Human Dignity, which we like to refer to as our P.H.D. Philosophy. This means that we pledge to treat debtors with dignity and respect. In our experience, most people will pay what they owe if they're given manageable options.
However, if a person isn't cooperating, we have the power to report them to the credit bureaus. Usually, this works with debtors who don't want their credit rating to drop. In rare cases, we can also take legal action with your approval.
Check your prospective debt collection agency's partnerships to gauge their reputation. For instance, we're affiliated with reputable organizations like the ACA International, the American Association of Health Administrative Management, the International Association of Commercial Collectors, and others. What's more, we have the highly sought-after A+ ranking from the Better Business Bureau (BBB).
#5 Can You Find My Debtor?
Admittedly, this is one of the most popular questions. Most businesses are run by trusting people who believe that their customer will settle their debts. Unfortunately, many debtors use excuses to buy time until they can vanish physically and digitally.
When trying to recover an account as stubborn as this, it's best to partner with a commercial collection agency with years of experience that has the resources to locate people and their assets. At Summit A*R, we have an entire skip tracing department that's led by a skilled private investigator.
Other agencies may give up when a client skips town and changes their address, employment status, and other vital information, but our team of skilled professionals are adept at following patterns. We don't mean to boast, but we have skip tracing down to an art form. The proof is in the statistics – we're better at finding people than agencies that rely on less robust databases.
These are the main questions you should ask a debt collection agency before partnering with them. Even if an agency pledges to charge you only if they are successful, failure still comes at a cost. Not only do you lose time, but your account also becomes harder to recover.
---